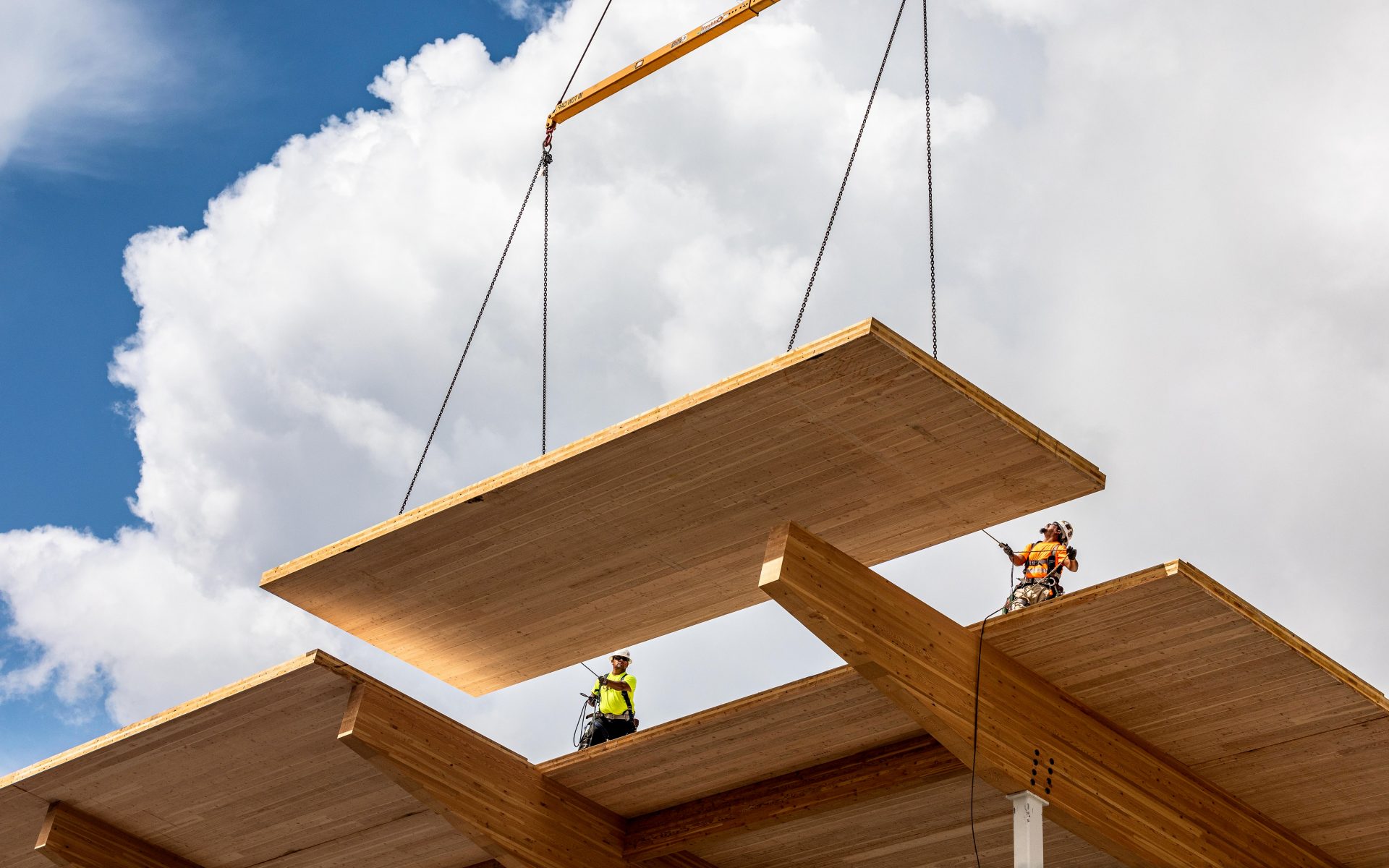 Services
Rooted in Experience
Thanks to our roots as a general contractor, we see every project through the eyes of a builder. We provide solutions that result in the highest value for the owner and occupant through proactive problem-solving that considers the holistic integration of the structure with other building systems. Our approach brings mass timber dreams to life.
Expertise

We know that critical cost-driving decisions are made early, and find we have the most impact when projects are in the seedling stage. Our preconstruction managers are focused on every detail of the mass timber system, and on the larger picture of how the structure integrates with other building systems including the lateral system, façade, and MEPF services. We consider each decision from multiple angles, and are willing to engage the project team in our thought process. When you hire Timberlab for preconstruction, you gain a trustworthy partner committed to the overall success of your project. Timberlab's Preconstruction Services are customized for each project, and include:
Management of project-specific structural and fire testing toward application for Building Permit.
Support for project entitlement through well-planned meetings with the Authority Having Jurisdiction.
Concept design of multiple structural framing approaches, with associated cost estimates and schedules.
Constructability review: Identify opportunities to design for manufacturing, fabrication, and easier, safer, faster installation. Advice on general installation methodology and construction considerations for each system.
Design guidance on harmonious integration of the timber structure with other building systems, including the lateral system, façade, MEPF services and wall assemblies.
LOD 200 model based on Contract Documents, including structural members and typical connection details
Guidance on procurement strategy, as regards member sizing, wood species, sustainable wood sourcing, cost, and schedule implications.
Preliminary Schedule for Mass Timber systems, including procurement and installation durations and milestones for integration with the GC schedule

Our service-oriented Timber Engineering team is here to support structural engineers and project teams with cost- and constructability-driven design. We engage as a partner, seeking first to understand the specific needs of the team and then propose services that we believe we will add significant value by reducing cost, accelerating schedule, or increasing the viability of an unprecedented innovation. We offer a wide-ranging spectrum of services, including: Delegated Design: When engineering a complete timber frame, or a more limited scope of timber connections, our timber engineering team works directly with our estimators, digital construction engineers, CNC operators, and superintendents to arrive at the best solution. Design Assist: Timberlab reviews the superstructure (including non-timber lateral systems) for cost, procurement strategy, fabrication, and constructability, offering solutions for efficient design. Peer Review: As a middle ground between design assist and delegated design, we offer peer review on member sizing, connection and diaphragm design, and vibration design. Erection Engineering: We produce drawing calculations for installation of mass timber systems. Our understanding of the construction process and timber systems allow us to produce efficient installation sequences. This includes bracing plans, lifting plans, and shoring. Research and Development: We drive innovation into the market through the eyes of the builder, focused on research that is widely applicable and will drive down the cost of mass timber systems. We home in on design elements that are ripe for opportunity, and perform necessary ASTM testing to prove seismic, fire, and vibration performance. Vibration Testing: We will perform vibration testing of your building (even if we did not build it!). Our growing library of vibration data helps us to optimize our designs based on the performance of similar systems.

Timberlab's Digital Construction team evolves a mass timber design to a fabrication-level kit of parts, utilizing off-site construction. This process raises awareness to complex construction interactions, in preparation for fabrication of timber components. These can include: opposing structural elements with varying tolerances, architectural finishes, devices/equipment and installation requirements. The process begins with confirming contract documents in regards to perimeter and core tolerances, and continues all the way to CNC-based coding for the machine cutting of elements. The ultimate goal is to model and produce content that matches the design intent while conforming to installation and material realities for each project. By pushing the envelope with this Digital Construction process, we are creating a more actionable and predictable project through fabrication and install.

Through our extensive relationships with mass timber supply partners across North America and Europe, we procure materials that provide the best value and coordinate all the elements into a cohesive structural package. We are committed to responsible wood sourcing for our projects and offer creative solutions to meet sustainability and wood procurement goals. Our fabrication facility maintains chain of custody certification for FSC®, SFI®, and PEFC™ forest management standards.

We bring the architect's vision to life by turning commodity materials into custom building components that are easily assembled on site. Our CNC machines are tooled to process the member sizes needed for long-span office buildings and tall timber buildings.

A smooth, efficient installation process results from smart decisions made before we arrive on site. We build the project virtually, detail every component, and prefabricate the timber structure to transform the construction into a process of assembly.
PARTNER WITH US
We're your partner for success. Bring us on board early for the best results. Our team is proud to serve many roles.

Design-Build
From engineering through installation, we provide complete systems to meet your project's cost, schedule, aesthetic, and sustainability goals.
Supplier
We think through every detail of the timber structure and deliver a fully coordinated kit of parts for owner installation.
Research & Development
We support mass timber product development and expedited testing through research consortiums.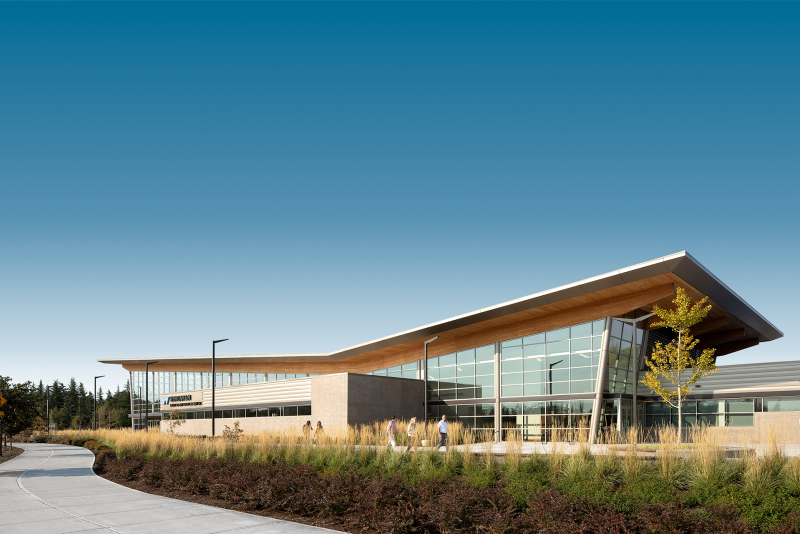 Build it Better
Take your project to new heights with mass timber, the nation's largest renewable resource.
View Projects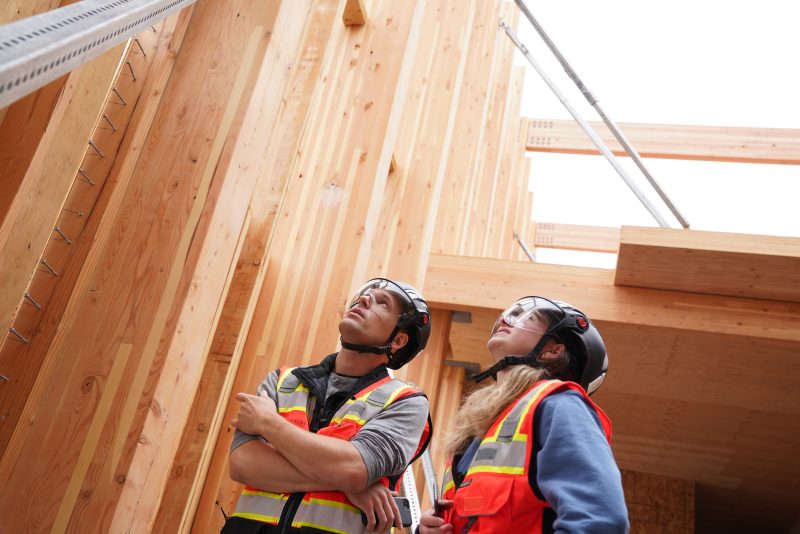 Connect with Us
Achieve your mass timber dreams. Bring us on board today.
Contact Us