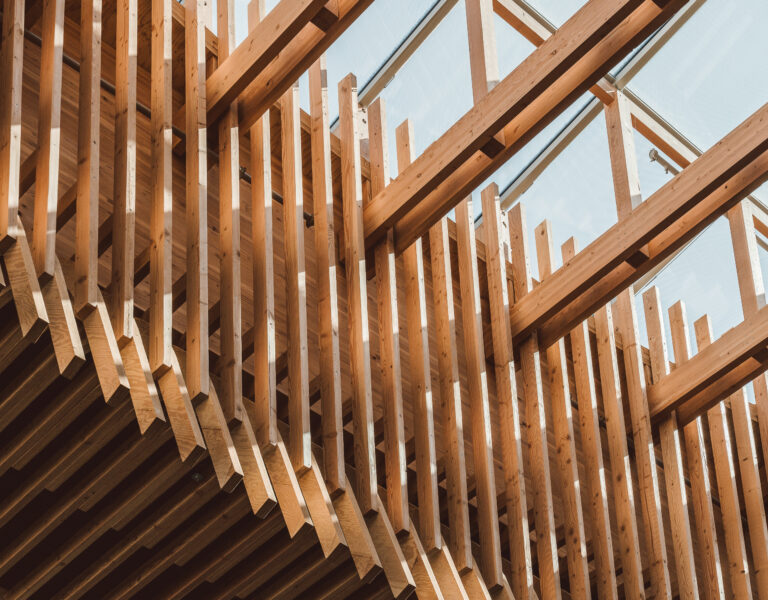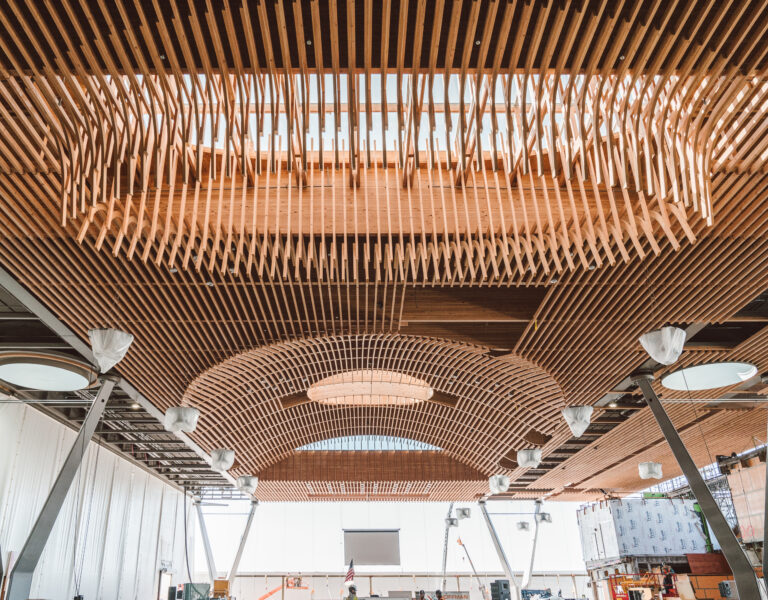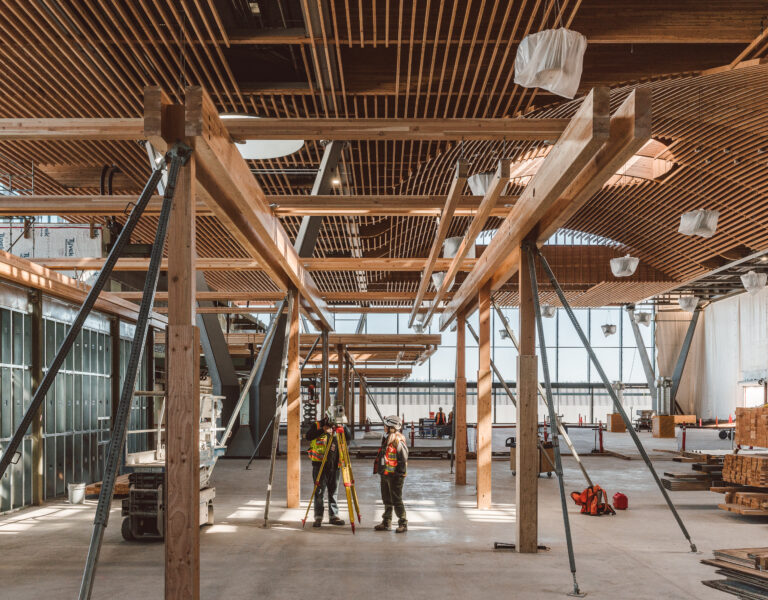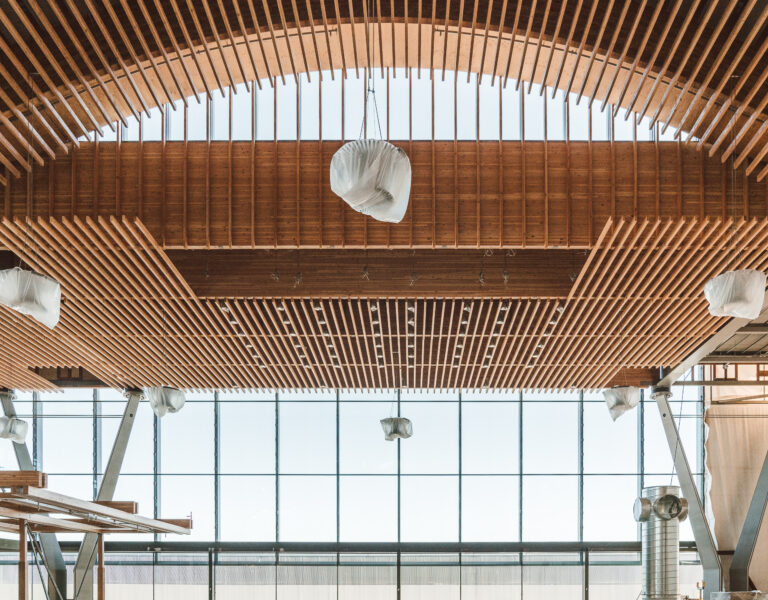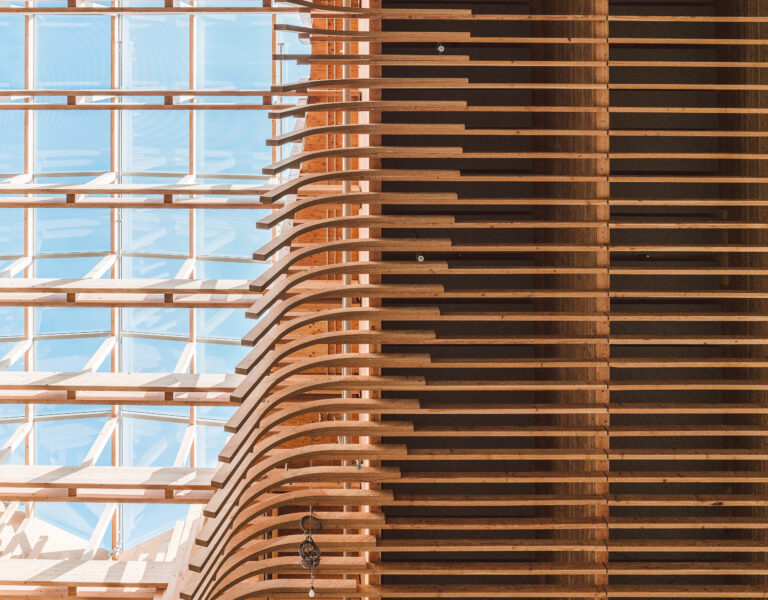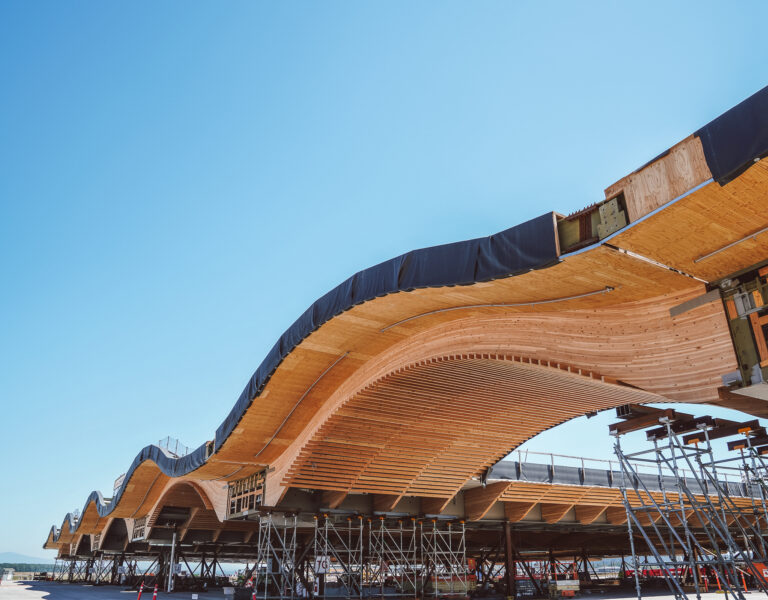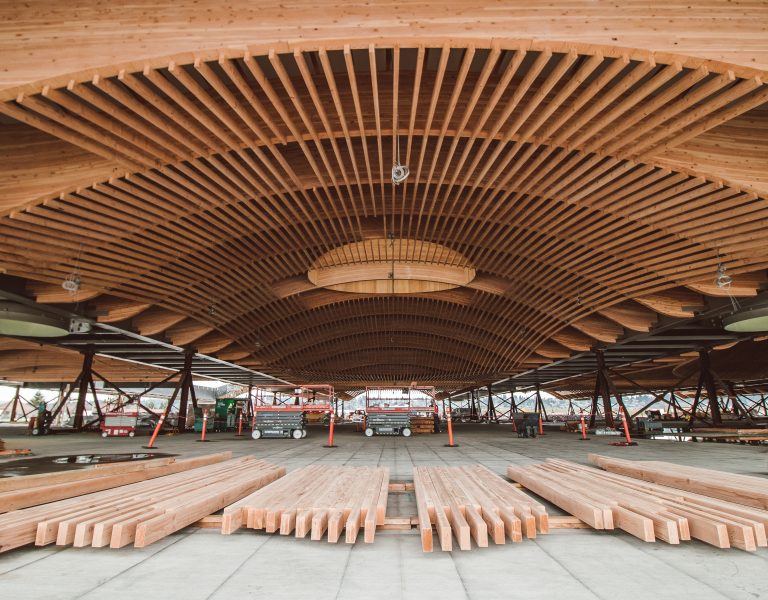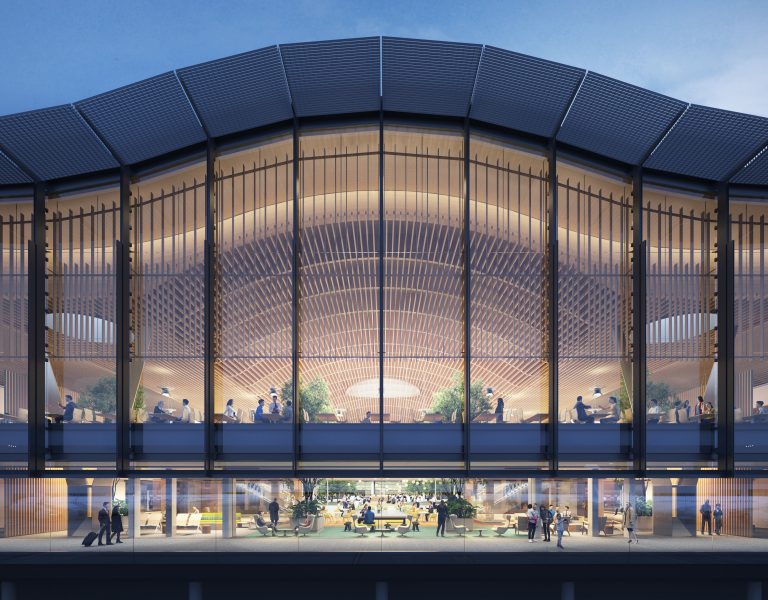 Local Wood Traced to Forest of Origin
Portland International Airport | Portland, OR
Overview
The centerpiece of the PDX Terminal Core Redevelopment is a stunning, 400,000 square foot timber roof that pays homage to Oregon's rich natural beauty while also highlighting its growing wood innovation sector. The lush biophilic design provides travelers with a deep connection to the forests of the Pacific Northwest.
Timberlab (formerly known as Swinerton Mass Timber) came onto the project in 2019 in a design-assist role to ensure the design of the mass timber roof structure could be manufactured and procured from regional timber manufacturers – sustainably and cost-effectively.
Comprised of approximately 3.3 million board feet Douglas Fir, the roof features over 400 80-foot glulam arches, a Mass Plywood Panel roof diaphragm and skylight curbs, and a lattice of 3x6 Douglas Fir inspired by regional weaving traditions traced back to four forest landowners in the region:
Materials were procured from a diverse array of local landowners and Pacific Northwest tribes across the region within a 600-mile radius. Hyla Woods, Skokomish Tribe, Anne and Richard Hanshcu, and the Nature Conservancy provided the beautiful Douglas Fir material for the lattice.
To avoid disruption to the traveling public, the new roof is being built a half-mile away from the current airport roof, then disassembled in 100x300 modules and assembled above the existing roof in segments over a one-year period.
As this project continues to push boundaries for wood innovation, Timberlab is a vital partner in helping the Port of Portland achieve its vision and enhancing the flying experience of every passenger at PDX. Upon completion in 2025, the Portland International Airport will continue its excellence as "America's Best Airport".

Team
Owner | Port of Portland
Architect | ZGF Architects
Structural Engineer | KPFF Consulting Engineers
General Contractor | Hoffman Skanska JV
Virtual Design Modeling | CadMakers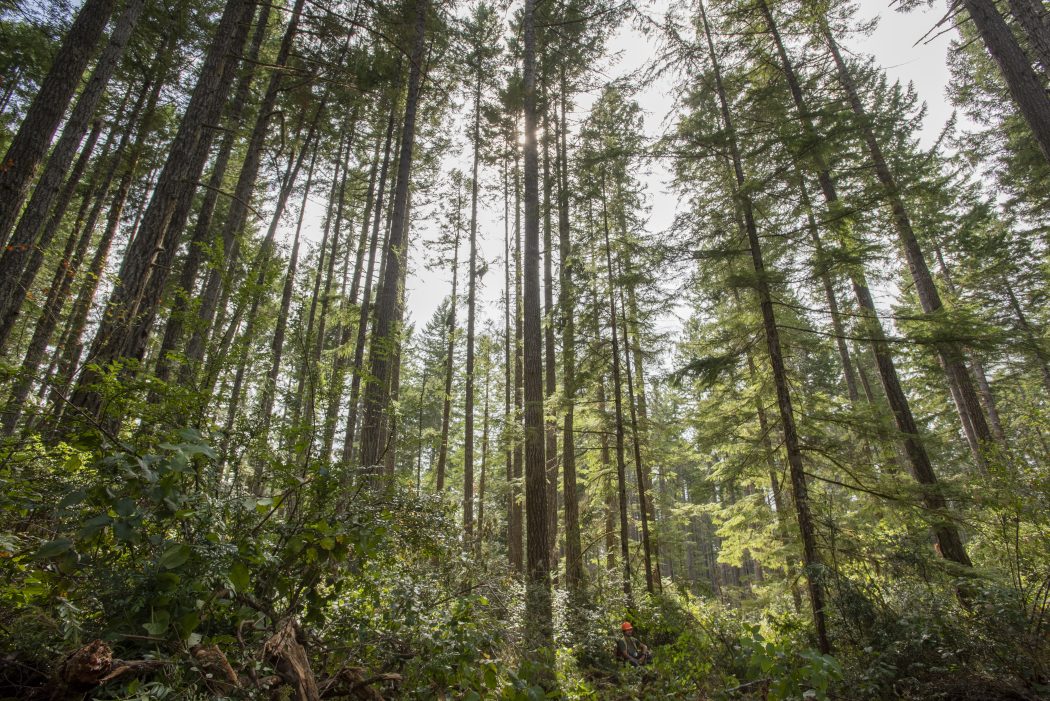 ECOLOGICAL & EQUITABLE WOOD SOURCING
With the support of Sustainable Northwest Wood, the project team pioneered transparent, targeted wood sourcing on a large scale, from the landowner to the sawmill, to the laminator.
Portland Airport Wood Sourcing
LONGEST SINGLE-SPAN ARCHES
During the design phase of the project, the team worked with Zip-O Laminators to support the manufacturing of 80ft-long, 16ft-tall arches in one piece – impacting the bottom line and halving the number of pieces needing to be handled, transported, and erected.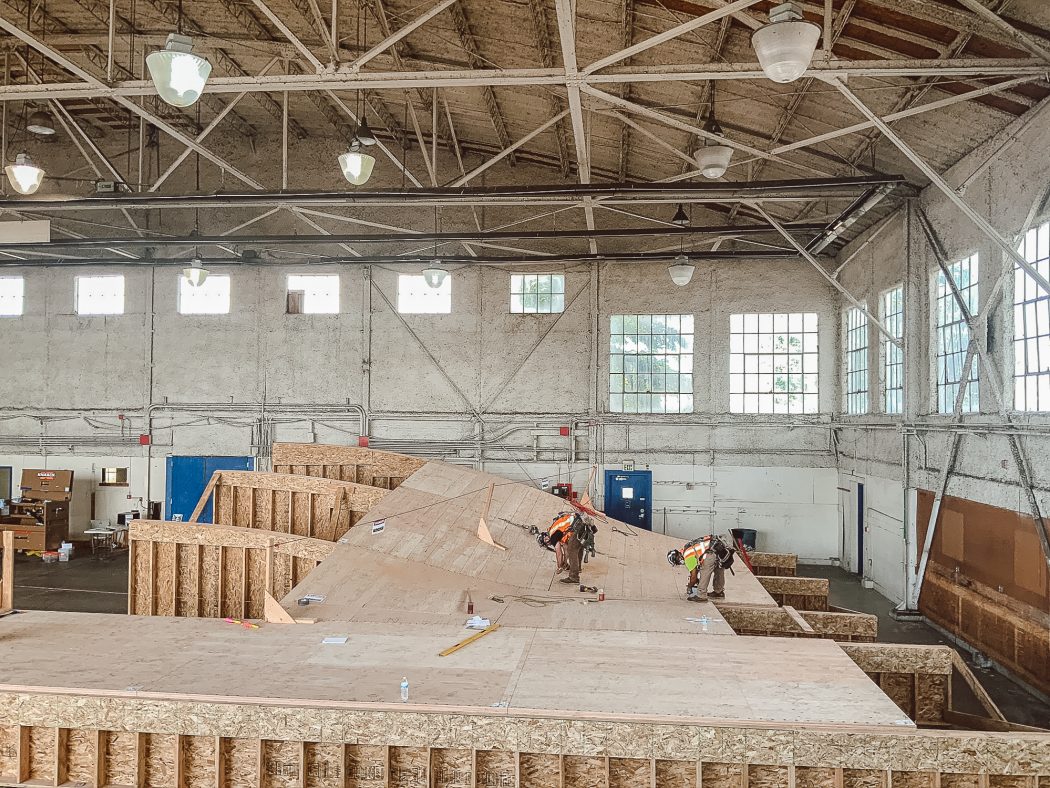 2-WAY BENDING MASS PLYWOOD
To ensure that the mass plywood diaphragm could match the undulating geometry of the roof, we constructed a full-scale mock-up at our fabrication facility in Portland. Our experience validated the use of MPP on the project and helped us to fine-tune the panel layout.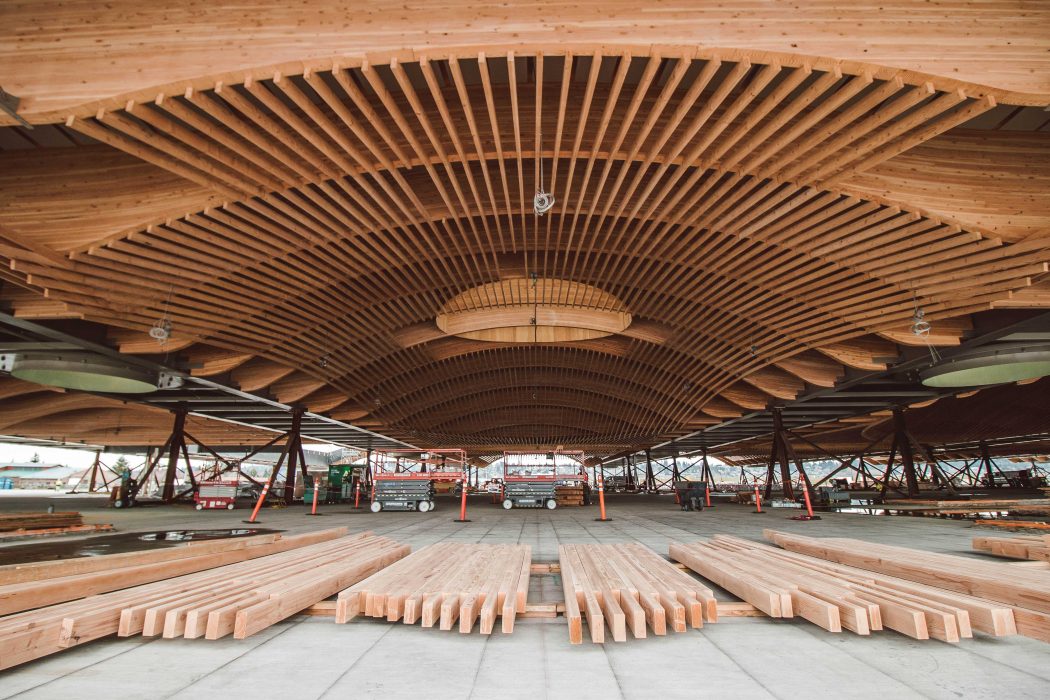 FOREST TO FRAME LATTICE

Sustainably grown Douglas Fir logs were harvested from Hyla Woods, Skokomish Tribe, Anne and Richard Hanshcu, and the Nature Conservancy for the latticework on the ceiling. Logs were milled by Manke Lumber and Kasters Kustom cutting into nearly 30,000 pieces of 3x6 material.